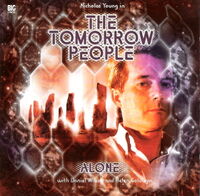 Alone was the fourth and final story of the second series of the Big Finish range of audio dramas. It was released in ???, consisting of 3 episodes (all on 1 CD).
TBA
This CD is dedicated to Philip Gilbert, the voice of TIM, who had passed away earlier that year.
TIM's absence from this story is explained as the result of a psychic attack.