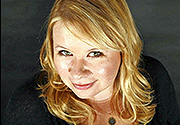 Julie Plec
is one of the executive producers of
The Tomorrow People
U.S. TV Series
.
At the 2013 Summer Television Critics Association Press Tour, Plec spoke about her involvement in the show. When she was 8 years old, she recalls watching the Original Series on the Nickelodeon cable channel. Years later, as a sophomore at Northwestern University[1], she worked with Greg Berlanti on a theater production and asked him about the show: "And he was like, 'You've got to be kidding me! That's like one of my favorite shows from when I was a kid.' And I said, 'Thank God, because you are literally the only person I have ever met who knows what it is.'"
When Berlanti gained the rights to The Tomorrow People, he called Plec and informed her that she would be one of the executive producers: "It was his gift to me after about 20 years of friendship. He decided that I'd given him a lot of opportunities, and he wanted to bless me in return with the same kind of opportunity."[2]
In a Los Angeles Times interview, CW President Mark Pedowitz said of Plec: "Her talent is on the screen every week. Her word is her bond. And she's tireless with her words." Greg Berlanti said: "There is nothing passive about Julie. The day she doesn't respond to a question you have within 10 minutes, is the day you send out a search-and-rescue team."[3]
References
Edit
↑ 'The Tomorrow People' Finally Has Its Day, blog.wsj.com, retrieved 31 August 2013
↑ With 'Vampire Diaries' and 'Originals,' Julie Plec is queen of CW , latimes.com, retireved 20 October 2013