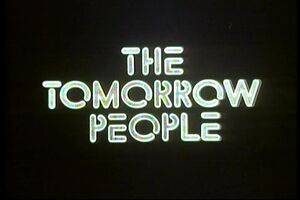 The Tomorrow People was a British children's science-fiction televison series created by Roger Damon Price. Produced by Thames Television for the ITV Network, it followed the adventures of a group of youths with psychic abilities. The show was depicted in the press as being ITV's answer to Doctor Who, but never gained the same adult following.[1]
The Tomorrow People premiered on British television on 30 April 1973. It ran for eight seasons, with the final original episode being aired on 19 February 1979.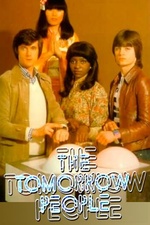 The Tomorrow People are a group of youths who represent the next stage of human evolution (Homo superior). Though born human, their special abilities (telekinesis, teleportation, telepathy) generally manifest during adolescence, a process known as breaking out. They are unable to deliberately kill any living thing, due to the Prime Barrier which exists in the minds of all Tomorrow People.
Series Overview
Edit
See also: List of Tomorrow People (Original Series) serials
| Season | Summary |
| --- | --- |
| 1 | New Tomorrow Person Stephen Jameson breaks out and joins John, Carol, and Kenny in The Lab. Biker thugs Ginge and Lefty become friends of the Tomorrow People, and aid them against the shape-changing robot Jedikiah. |
| 2 | Kenny and Carol have moved on. Schoolteacher Elizabeth M'Bondo joins the Tomorrow People. Ginge is out, but his younger brother Chris takes his place. |
| 3 | Gypsy boy Tyso Boswell comes on board. The Tomorrow People go on their first mission to an alien planet. Jedikiah comes back for revenge. |
| 4 | Young telepathic heartthrob Mike Bell is recruited into the ranks of the Tomorrow People. |
| 5 | The Tomorrow People go up against the KGB, take an off-planet vacation, and deal with an evil god. |
| 6 | Stephen and Tyso are dropped with no explanation, but Asian girl Hsui Tai goes from goddess to Tomorrow Person. |
| 7 | Scottish lad Andrew joins the Tomorrow People and helps save the world. |
| 8 | Consists of just one story, War of the Empires, in which the Tomorrow People attempt to mediate in an interplanetary war before it can spread to the Earth. |
In a 2013 Digital Spy article, Morgan Jeffery looks back at the series and writes: "The show's strength lies in its thrilling premise - you can imagine its young audience back in the '70s, dreaming that they too might one day 'break out' and join the ranks of the Tomorrow People."[2]
Merchandise
Edit
DVD Releases
In 2005, A&E Home Video released individual season box sets in Region 0 NTSC.[3] The complete series box set is available in Region 2 through Revelation Films.[4]
Tie-In Novels and Novelizations
In the 1970s, Piccolo Books released a series of original Tomorrow People novels and episode novelizations.[5]
Original Novels
Novelizations
The Visitor (1973)
Three in Three (1974)
Four into Three (1975)
One Law (1976)


The Lost Gods/Hitler's Last Secret/The Thargon Menace (1979)
Jaunt
In August 2013, Miwk Publishing Ltd. released a book titled Jaunt: An Unofficial Guide to the Tomorrow People by Andy Davidson, containing interviews with Roger Price, Ruth Boswell (producer), and with actors Nicholas Young, Peter Vaughan Clarke, Elizabeth Adare, Mike Holoway and Misako Koba.[6]
Reviewer Nick Setchfield of the website SFX gave the book four out of five stars, calling it "a thorough, honest overview of the Homo Superior saga, from its origins as a slice of polyester-era high strangeness through to spin-off strips, audio adventures and television revivals."[7]
Revivals
Edit
1990s Series
In 1992, Price created a second series that featured a different cast, set of characters, and music. The show began airing on ITV on 18 November 1992, with final original episode being aired on 8 March 1995.
Big Finish Audio Series
In 2001, an audio series was produced by Big Finish Productions. These audio-only stories were available on CD, and were produced until 2007.
U.S. TV Series
In January 2013, it was announced that a third TV series had been greenlit by the CW television network. This version rebooted the original concept for an American audience.[8] The series premiered on 09 October 2013.
References
Edit