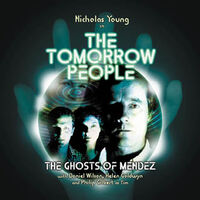 The Ghosts of Mendez was the third story of the Big Finish range of audio dramas. It was released in 2002, consisting of 3 episodes (all on 1 CD).
In the heart of London a new art gallery is under construction using revolutionary designs by radical architect Cordelia Mendez. Georgie, an old friend of John's, has been overseeing the gallery's construction and invites him to see it. But when disaster strikes, John is forced into action to save the lives of the construction workers –- dragging the Tomorrow People into far greater danger. For John's heroics have come to the attention of a reporter who has his own agenda -– and some very unscrupulous acquaintances.
Can John keep the existence of the Tomorrow People a secret from the general public? And can he help a friend in need?[1]
References
Edit